R
O
U
T
E
6
6

B
A
R
S
T
O
W

C
A
L
I
F
O
R
N
I
A

R
O
U
T
E
6
6

B
A
R
S
T
O
W

C
A
L
I
F
O
R
N
I
A

If you are not redirected in 5 seconds click the link below
.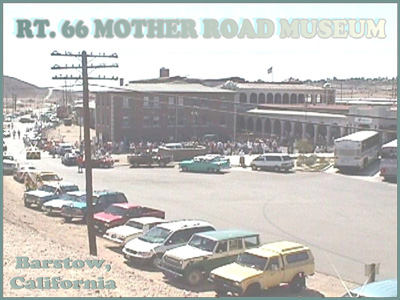 Open FRIDAY - SUNDAY 11:00 AM - 4:00 PM
FREE ADMISSION
Write - Email - Fax/Phone - Map - Tour Info
Upcoming Events
Visit our next door neighbor - Western America Railroad Museum

- - We Need Your Help and Support - -
Become a member of the Route 66 Mother Road Museum
and you will receive the quarterly newsletter, a membership
card and a 10% discount in the Museum Gift Shop.
Limited time offer of a one-year subscription to the "American Road" Magazine
with a new or renewal membership (value $19.80 at newsstand).
| | |
| --- | --- |
| Membership Dues: | |
| Annual Person | $ 25.00 |
| Annual Family or Organization | $ 35.00 |
| Lifetime Person | $250.00 |
| Lifetime Family or Organization | $350.00 |
---
The Route 66 "Mother Road" Museum was dedicated on July 4, 2000 in the historic Casa del Desierto, Harvey House, in Barstow, California. The Museum displays a collection of historic photographs and artifacts related to Route 66 and the Mojave Desert Communities. Displays include development of the United States Route 66 from early pioneer trails, railroads, automotive history, businesses and sites.

Visitors making this roadside attraction a day destination or staying in the area longer can learn more about what to experience while on the Mojave Desert or on Route 66 from many handouts, books and knowledgeable docents. Because of greater interest, our technical resources and preservation efforts are building to offer better assistance.

On May 1, 2003 Hampton Inn Hotels designated the Harvey House Route 66 Mother Road Museum as a "Roadside Attraction" by officially posting a sign, one of "66" along the Route's 2,448 miles. For "America's Biggest Road Trip down Route 66", check http://www.hamptoninn.com/ or http://www.cart66pf.org/66caravan/ for their Save-A-Landmark campaign. Follow the trip highlights of the 66 Caravan as posting signs and touring the eight states through America.

During the heyday of rail passenger service in the Western United States, Barstow boasted a splendid rail depot/restaurant/hotel complex called the "Casa del Desierto", House of the Desert. Completed in 1911, the Casa del Desierto was the fourth "Harvey House" built by the Atchinson, Topeka, and the Santa Fe Railway Company along its right-of-way and operated by the Fred Harvey Company. These Harvey Houses established an unparalleled standard of food service to the traveler, and entered the lore of American railroading and the West.

The Museum Gift Shop offers gifts, books and clothing related to Route 66 and the Harvey House Depot. Many products are exclusive to our Museum. Souvenir and gift items, some specific to Barstow, California and the desert, include magnets, key chains, T-shirts, books, die-cast vehicles, postcards, hand-made products and more.

Contact Debra Hodkin, Secretary/Treasurer
for more information.
Phone: 760-255-1890
(address at bottom of page)

---

Upcoming Events

Watch for upcoming events and tours of the Barstow Harvey House Casa del Desierto. Please check back for updates, call or email us for more information.

June 18, 2005
5th Annual CLASSIC CAR SHOW

The 5th Anniversary Celebration CLASSIC CAR SHOW will take place at the Historic Harvey House Casa del Desierto, 681 N. First Avenue, Barstow, CA 92311.

Free Admission ~ Free Parking ~ Free Tours ~ Free Admission to the Route 66 Museum and the Railroad Museum next door.

Trophies - Dash Plaques - Goody Bags - Food - Vendors - 50s & 60s Music

Miss Route 66 Queens - Drawings (Great Prizes!) - Open Rail Cars - Free Harvey House Tours

Pre-Car registration is $15.00 by 6-12-05; day of the show is $20.00. Proceeds go to the Museum.

For entry form, flyers or more information, call 760-255-1890, Kenny McConnell 760-256-6770 or Eddie Cordova 760-255-1691. The flyer/registration form can be printed from here.

Please come support the museum in efforts to preserve past history of roads and transportation for our future generations!

September 10, 2005 - 9:00 AM - GIL'S PLACE - 235 E. Main Street - Barstow, CA


2004 Miss Route 66 Amanda Cothran of Fontana and her Princesses.

4th Annual Mini-National Route 66 Pageant
September 10, 2005
9:00 a.m. to 3:00 p.m.
Gil's Place, downtown Main Street in Barstow (Route 66!)
The event takes place during the Main Street USA Run Car Show.
Admission is free. Main Street is closed to through traffic on Saturday during the events.

a.. Fun Pageant with no required duties
b.. Open to anyone who has traveled along Route 66!
c.. 12 division from children to seniors
d.. Custom Route 66 crowns
e.. Route 66 Tiaras & embroidered sashes
f.. Embroidered jackets
g.. Route 66 medallions
h.. Sports wear; Route 66 "heyday" costumes welcome
i.. Opportunity to participate in the San Bernardino Rendezvous 2005
j.. Support preservation and the Barstow Route 66 Museum
k.. For more information or application, contact Kris Watson
760-257-3435 www.geocities.com/Imperial_image/ or Museum 760-255-1890.

ON EXHIBIT NOW

Postmarkart of Ken Turmel, Postmark Artist and Two Lane Highway Historian, of Oklahoma is on exhibit. Museum archival quality prints of his pictorial postmarks are available for sale. The limited edition prints are signed, numbered, and includes a Certificate of Authenticity and an 18 page booklet. The process in making his historic piece of work and biography are found on his web site. http://www.postmarkart.com/

Fine Art Commercial - Portrait - Architectural Photography of Kevin Hass of Los Angeles showing Route 66 in Los Angeles is on display. View his work at the museum or contact him for further information. OurFinca@aol.com or 323-258-6873

Los Angeles Photographer Russell Olsen's Exhibit "Along For The Ride" ~ Remembering Route 66 ~ in black and white represents many of the great icons along Route 66. Prints are available for sale, framed and unframed. A new release "Route 66 Lost and Found" Ruins and Relics Revisited is also available in the Museum Gift Shop.
http://www.route66lostandfound.com/ or 818-508-5477.

New York based Patrick Walsh Photomosaics is fine art photography, best described as painting with the camera, and influenced by 4th century BC mosaic tile art, using today's modern camera and film technology. His art work is Limited edition Fine Art Archival Prints on Archival Watercolor Paper. Our collection of Walsh's work can be viewed at the Route 66 Museum. More information and prints can be found on his web site. http://www.patrickwalshphotomosaics.com/index.htm

A variety of photographic images by John Nakata of the San Francisco Bay area are available for sale in archival prints and greeting cards at the Route 66 Museum. He and his wife Charlene Fischer traveled Route 66 collaborating on their Route 66 web site sharing images and offering tips for the "Mother Road" travelers. Nakata's Company, Sight & Sound Productions, provides content for print, multi-media, video and film. http://www.sightandsound.com/route66.html
Directions:
Take the I-15 north to Barstow, exit at "L" Street, turn left at the end of the off-ramp onto "L" Street, turn right on West Main Street (Route 66!), follow West Main Street to First Avenue, and turn left on First Avenue. The Harvey House is on the right after you cross the bridge over the railroad tracks.

I-15, I-40 south to Barstow, exit at Barstow Road, turn right on Barstow Road, turn left (west) on Main Street (Route 66!), turn right on First Avenue. The Harvey House is on the right after you cross the bridge over the railroad tracks.

Mailing Address:
Route 66 "Mother Road" Museum
Harvey House
681 North First Ave.
Barstow, CA 92311

Contacts
---
Sign Our Guestbook

View Our Guestbook
Visit Other Route 66 Pages in Web Ring Below
---
Content on this site is the property of the Barstow Route 66 "Mother Road" Museum. All Rights Reserved.
Original Site by Cheryl Nowka
Museum Webmaster - Email